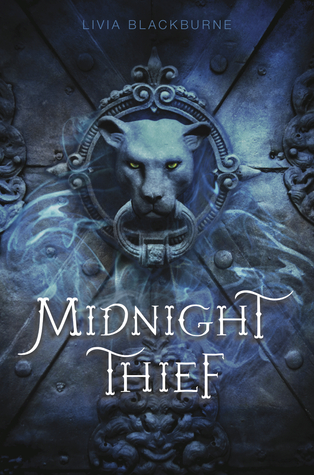 Growing up on Forge's streets has taught Kyra how to stretch a coin. And when that's not enough, her uncanny ability to scale walls and bypass guards helps her take what she needs.

But when the leader of the Assassins Guild offers Kyra a lucrative job, she hesitates. She knows how to get by on her own, and she's not sure she wants to play by his rules. But he's persistent—and darkly attractive—and Kyra can't quite resist his pull.

Tristam of Brancel is a young Palace knight on a mission. After his best friend is brutally murdered by Demon Riders, a clan of vicious warriors who ride bloodthirsty wildcats, Tristam vows to take them down. But as his investigation deepens, he finds his efforts thwarted by a talented thief, one who sneaks past Palace defenses with uncanny ease.

When a fateful raid throws Kyra and Tristam together, the two enemies realize that their best chance at survival—and vengeance—might be to join forces. And as their loyalties are tested to the breaking point, they learn a startling secret about Kyra's past that threatens to reshape both their lives.
Description taken from Goodreads. 
---
I really, really wish I could have liked this book. I have been wanting to read this book since 2013, and it was one of my highly anticipated high fantasies of 2014. The only thing that really brought this book down for me was the characters, Kyra especially.
Let's start from the beginning, which is the fighting scenes. Kyra is supposed to be this awesome thief that's amazing. In actuality, she's more of a happy-go-lucky, motherly character who has someone magically appear and save her from whatever situation she's in once she gets in a pinch. The maternal part is fine, there's nothing wrong with her, it's the fact that your characters's personalities need to fit their character.
On to the romance. If this had been a good love triangle, I could've accepted it. Heck, if this had been a good love PYRAMID, I would've accepted it. But I couldn't, because for one all the guys fall in love with her in this story, for no real reason in particular. Oh yes, it's her grace and skill right? Yeah, the skill she doesn't have and doesn't earn.
The hardest part about disliking Kyra is her character. It's not even the annoying things she does. It's that she has no sense of street smarts, lacks common sense, is weak and loyal to no one–constantly betraying people for what she perceives as her own gain.
When it comes to Tristam and James, the leader of the Assassin's Guild, Tristam was acceptable. I really appreciated the backstory and the way he grows so much as a character through his friend's death. It was very well executed by Blackburne. And then there was James, the one character who especially stuck out to me for the better.
I originally read POISON DANCE, the novella telling James's story set before MIDNIGHT THIEF, as a way to hold me over until MIDNIGHT THIEF came out, but if you want to get a glimpse into this story and Blackburne's style, I recommend that you read POISON DANCE. It meshes very well with MIDNIGHT THIEF for one reason–and that reason is it shows a completely different side of James. Having read the novella, I admired James because of how well his character is crafted. He's complex and fleshed out, showing no clear line between good and evil and constantly tricking the reader.
The world-building in this book description wise was okay, but dwindled towards the end of the story and there were many things that weren't explained that are crucial to the core of the story, such as explanation of the magic or the beasts. This book was a let down for me, but I did really love seeing James again and some parts of the story were very entertaining, but not enough to save it. Would only recommend this book if you read POISON DANCE and really enjoy it. 1.5 stars.
pg count for the hardback: 376
Series: Midnight Thief